Lux Angel Eyes for BMW UK supplier
LUX Angel Eyes are the premium LED angel eye solution for your BMW. They offer the highest brightness of any LED angel eye with a simple install process. LUX H8 is 100% plug and play requiring no cutting, drilling, or modifying your headlights. LED angel eyes are unique to halogen or xenon angel eyes because they are designed specifically to make both the inner and outer ring equal brightness while maximizing brightness. LUX has been designing Angel Eyes since 2007 and continue to utilize the best and newest components to make the highest quality products.
Authorised resellers for Lux Angel Eyes in the UK
Cartronics are authorised to sell LUX angel eyes for delivery to the UK and all over Europe.
You can buy these brilliant led headlight replacements for BMW at our online store Car Audio Express.
Angel Eyes installation for your BMW
We can also install and program your car for DRL if you wish, DRL coding will enable ANGEL EYES to switch on regardless of Light switch position & auto dim when headlamps are switched on.
Check out some example LUX angel eye installations on the project pages of our main web site
The latest product from LUX Angel Eyes is the LUX H8 180 Angel Eyes
Replace your cars factory lights with these pure white, up to date version that you'll only find on newer models.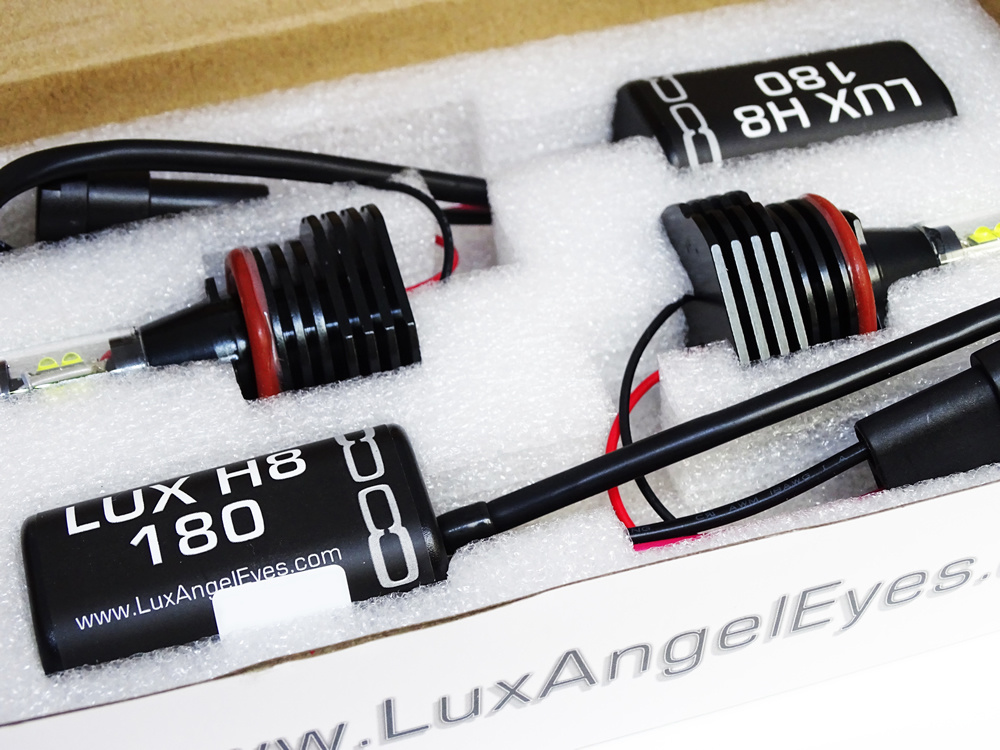 The LUX H8 180 angel eyes patented design utilizes 8 Cree LEDs offer unmatched brightness to both the inner and outer angel eyes.
Producing a 3200 lumen of pure white 7000k light the LUX H8 180 angel eyes have the halogen equivalent of 160watts. Stock halogen bulbs get only 80-90% power and can drop to 50% when used with the headlights, this can make the angel eyes dimmer than they should be, to reduce heat. LUX H8 180 LED bulbs compensate for any dimming, operate at full power all the time so are visable at any time of day, use less power, run cooler and last longer!
The LUX H8 V160 offers the following Features:
• Pure white 7000K white light
• Equivalent to 160 watt halogen bulb
• Over 2x brighter than stock bulbs
• Guaranteed no dimming with all lighting modes
• No flickering on startup Self Check Sequence*
• Fully Fused and No EMI
• Brightest H8 Style LED Angel Eyes on the Market
• US Patent Number D720,483
*Please Note - the Fade off feature may cause the angel eyes to pulse off
Product Compatibility:
• 1-series and 1M – E82 | (2007-2012)
• 3-series Coupes – E92 | (2006-2010)*
• 3-series Convertibles – E93 | (2006-2010)
• 3-series Sedan LCI (with Xenon) – E90 | (2009-2012)
• M3 coupes /convertible / sedans – E90, E92, E93 | ( 2006-2013)
• 5-series Sedan LCI | (2008-2010)
• X1 (with Xenon) – E84 | (2010-2012)
• X5 ( with Xenon) pre-LCI – E70 | (2007-2011)
• X6 – E71 | (2008-2012)
• X5M / X6M – E70 / E71 | (2008-2012)
• Z4 – E89 | (2009-2012)
*Please Note: E92 Coupes Manufactured before March 2007 are Not compatible
Check in regularly for updates on the LUX Angel Eyes range, or call us on
01932 800800 for the latest LUX products and information
LUX E90 LCI version 6 halogen lights utilizes the newest Cree LED's available today. Creating around 1800 lumen makes these lights the brightest plug and play LCI lights on the market. With the halogen output equivalent of 88 watts of power whilst only using 6 watts per light.
The LUX E90 LCI Halogen angel eyes are a unique product designed for the 2009-2011 E90 3-series sedans with Halogen headlights. The stock angel eyes are a dim yellowish color and our new product converts them to a bright white color that is much brighter and more appealing to the eye
Vehicle Compatibility:
• 2009 - 2011 BMW E90 Sedan with Halogen Headlights
Please note these are not compatible with 335i models or Xenon headlights
Note for European model cars: These lights will only work on the Valeo headlights, not ones manufactured by ZKW
Features:
• 6500k Pure white
• Much brighter then Stock
• 100% plug and play
• Easy to install
• Error Free
• 1 year limited warranty

Check in regularly for updates on the LUX Angel Eyes range, or call us on
01932 800800 for the latest LUX products and information